There is a saying that "fast girls have good times" and until April 2014 I felt that the fun part of that quote meant I was going faster than most other women (and men for that matter). But something happened that made me take myself far less seriously.

Perhaps you heard about it? A magazine made fun of a woman wearing a tutu (and a costume and battling cancer but they didn't mention that part). The magazine writer made fun of all the silliness that some folks have while running.  It wasn't even a running magazine but they were judging and they were judging harshly. As the race director for Sole Sisters Women's Race and founder and head coach of Girls Gone Gazelle Run Club I know how important it is to encourage other girls and women. Not tear them down.  We have to be there for each other and we have to stop these stupid magazines from making us feel anything other than beautiful. Exactly the way we are.
What right did they have to say that running could only be serious and that if you weren't fast you shouldn't be running?   Ugh, it made me mad.   Really mad.  So mad that I didn't want to be one of those overly serious runners who sees costumes and tutus and makes an evaluation about what sort of "good time" that person would or would not have.  I have always encouraged girls and women to run but it didn't occur to me that wearing a tutu might be fun while running. That a shout of "Go Tutu Girl" might be just what someone needs to hear when running gets hard.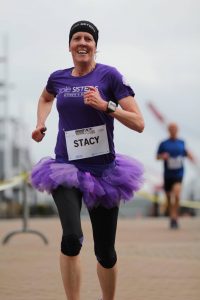 So I wore a tutu (furnished by Lisa of Tutus On The Run) in a local race shortly after "tutu-gate" and I planned to just jog it but the tutu got me attention. Lots of attention. And despite myself I still ran under 20 minutes for the 5K that I was "only" going to jog. Wait? Fun and fast?  Then the next weekend I ran another 5K and I won it. What? I won a race wearing a tutu. That was it. I was going to wear a tutu for all my races in 2014.
Full disclosure, I didn't win all the races I entered after the initial tutu success (just one more). And I didn't always run fast but I can honestly say that I have never had so much fun running and that I really did learn how to have a good time.  Finally, after 26 years of running I learned something new.  Fun is not easily defined and it varies for everyone but if you run in a tutu you will not take yourself seriously and you'll be much more open to fun and to awesome cheers/compliments.
So in 2015 I took the tutu to the next level.  As the Race Director I decided to give the first 2,500 registered Sole Sisters Women's Race participants a tutu and I haven't looked back.
This was taken last week at the Bermuda Triangle Challenge (3 races in 3 days) and the tutus were very popular.  So much so that I made it in the paper! Oh and running in shorts in January was pretty sweet too!
Would you wear a tutu?