Little Miss Sole Sisters will be happening next on Sunday, June 2, 2019. There are no races in 2018 because we have changed the date of our fall race to be included in one amazing girls weekend for June 1-2, 2019 (click  link to read more about that).  We would love a stand-alone girls only race but need the infrastructure (finish line, tents, banners, volunteers, etc.) that Sole Sisters provides.
Little Miss Sole Sisters Races begin with a four kilometer race, followed by a two kilometer race and ends with a 100-meter toddler dash, these distances were designed specially for Little Miss Sole Sisters!
On Sunday, June 2, 2019 after the bulk of the 5K, Quarter & Half Marathon participants have finished their races and while we are still celebrating those achievements; the Little Miss Sole Sisters races will begin.
At Sole Sisters, we believe that running promotes confidence, body-acceptance, socialization and… it's FUN! Sadly, 29% of our adolescence are at an unhealthy weight, and only 4% of girls achieve the recommended daily levels of physical activity. Make this something the whole family enjoys, and join us for a Little Miss Race!
We're inviting all girls who are 18 and younger to try this event – you just need to pick your event. Little Miss Sole Sisters will take place on a closed course (no traffic allowed on the roads we are using for the girls races) that is safe and secure.
The Little Miss Sole Sisters 2K & 4K walk/run races are entirely on the Trans Canada Trail.  Beginning at Graham's Grove the course utilizes the Dartmouth multi-use trail that parallels the Shubenacadie Canal, Lake Banook and Lake Micmac and proceeds one kilometer where the participants turn and return the way they came (for an out-and-back course).  The 2K is one loop and the 4K is two loops.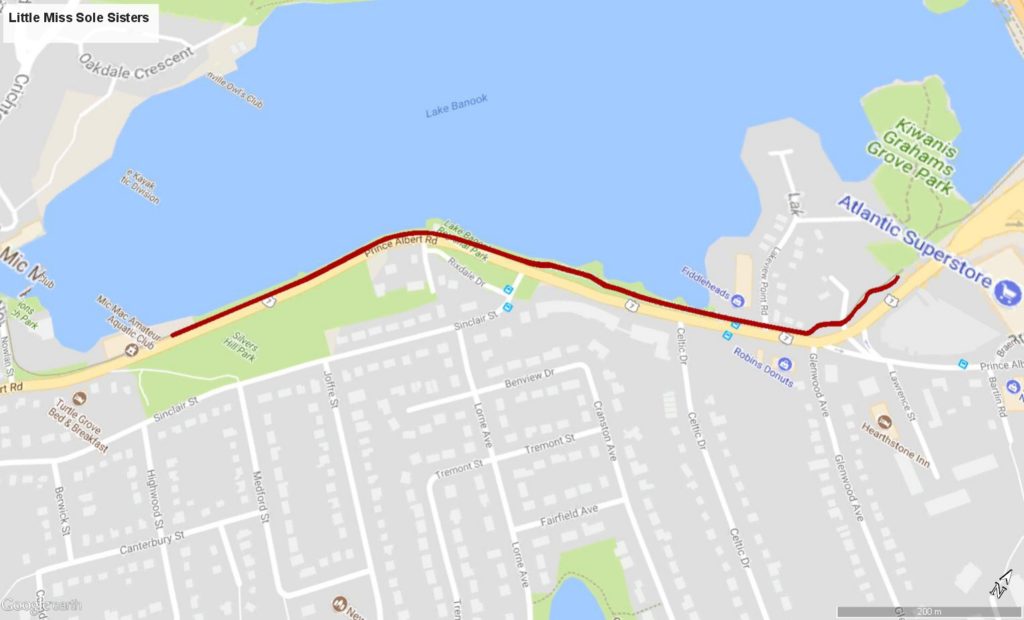 Our timeline is late enough that girls travelling from out of province can participate as well as to allow
most
Sole Sisters to finish their races before the Little Sisters start. The
4K will go at 

10:30am
; the
2K will go at 

11:15am
 and we'll finish off the event with a
100-meter dash at 

11:45am
.
In 2017 we had an additional event where Athletics Nova Scotia and Women Active NS invited girls for a fun participatory track and field based event. The event for females aged 8-12, was a great introduction to track and field. The participants warmed up with 2008 Olympian Adrienne Power and took part in a 60m sprint, 600m run, shot put throw and long jump. Participants were encouraged to bring a mom, older sister, friend or relative to take part in the fun as well, and we had a separate participation event just for them! There was information on hand on how to get involved in track and field in NS and some fun giveaways. And, the event was completely FREE!
If you have something you would like to bring to the June 2, 2019 Little Miss Sole Sisters Races please get in touch with us as we are currently planning the event.