This previously annual Fall Quarter & Half Marathon race is moving to Sunday, June 2, 2019 to be a part of the new Sole Sisters Girls Race Weekend. You can read all about those  plans HERE and we will be updating this section of our website shortly.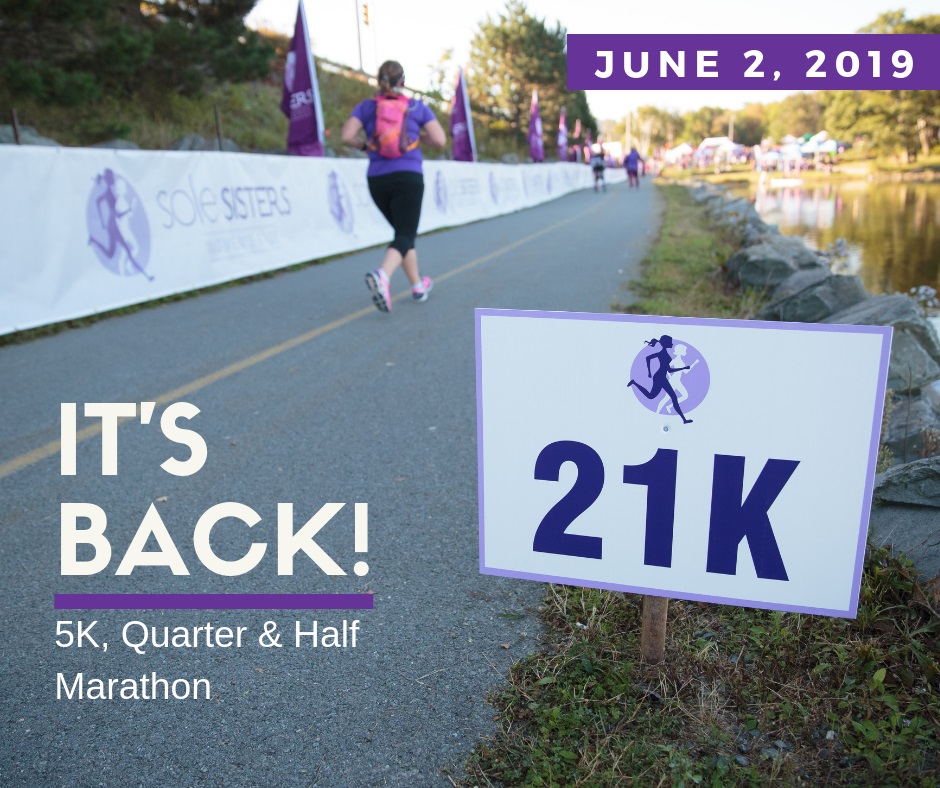 Since 2016, the Sole Sisters 5K, Quarter (10.5K) & Half Marathon (21K) has been the first and only women's 5K, Quarter and Half Marathon in Eastern Canada.  Not only is the Sole Sisters course beautiful (we run through Dartmouth, the City of Lakes) but all those lakes allow us to have very creative cheer stations eh?!
Just like previous years, the Sole Sisters 5K, Quarter & Half Marathon on Sunday, June 2, 2019 will apply to be on the 2019 Run Nova Scotia Race Series.  So if you are a member of Run Nova Scotia you'll receive a $5 discount when registering. It also means that gals can acquire age group points by participating in either race and guys or gals can acquire points by volunteering.
We truly believe in "Finish Lines Not Finish Times!" so when you register for Sunday's races, we will give you the choice to be chip-timed or to be listed as an OFFICIAL FINISHER (with no reference to time).
Sole Sisters Women's Race Series is proud to have been an Athletics Canada Supporter with the inception of Sole Sisters Quarter & Half Marathon in 2016.  When the course moved in 2017, it chose to follow the same Athletics Canada certified course as Epic Canadian Quarter & Half Marathon to utilize their certification. Therefore, we can assure you our race courses have been accurately measured according to international standards and the measurement data is reviewed by an accredited certifier.
Race & Location
In 2017 we left behind the Burnside Industrial Park (after five years of fun but not very pretty racing) for the gorgeous City of Lakes, Dartmouth. We love the blue, orange, red, green and purple!  Walk or run with us around this stunning course, surrounded by lakes, trees and our favourite of all the colours – Sole Sisters purple.
Race Kit Pick Up & Hotel
All local Sole Sisters will need to pick up their kits on Friday, May 31st, 2019 (4:00pm-8:00pm) or Saturday, June 1st, 2019 (1:00pm-5:00pm) at Hearthstone Inn (our host hotel located at 313 Prince Albert Road).  If you are travelling from out of town, on race morning we will have late kit pick at BAGGAGE CHECK (6:30am to 7:30am).  To avoid long lines or any additional race day stress we highly encourage you to have a friend pick up your kit for you if you are not going to make it on Friday or Saturday.
Looking for a hotel?
Hearthstone Inn is our host hotel and the place to stay if you would like to be a mere 200 meters from the Sole Sisters start & finish line at Graham's Grove.  Plus, your race kit pick up will happen here. 
Room Rates for May 31st and June 1st are: $139.99 which includes hot buffet breakfast, high speed internet, free tea/coffee in lobby 24/7, free parking, microwave and fridge in all rooms. Call 800-422-8025 to book your room and indicate you are a SOLE SISTER for this rate.  This hotel will sell out fast so don't wait to book.
Race Routes, Schedule & Parking
Schedule with all races starting at 45 Graham's Grove, Dartmouth 
Sunday, June 2, 2019
7:00am – EARLY START;  8:00am – 5K;  8:15am – Quarter & Half Marathon
There is a four hour time limit for the races on Sunday. If that concerns you then join us for the EARLY START option. This will require that you know the course and have your own nutrition/liquids until 8am when all volunteers are set-up and the races have begun. But, this option may remove unnecessary race day stress. Remember we believe in Finish Lines Not Finish Times!