Your finish line has the most spectacular view of Lake Banook with or without this mobile cheer section in a Dragon Boat! In 2019 we moved our fall 5K, Quarter & Half Marathon races to Sunday, June 2, 2019 to be a part of the new Sole Sisters Race Weekend.
*STAY TUNED FOR OUR 2023 PLANS WHEN THE QUARTER & HALF MARATHON RETURNS. IN 2022 WE ONLY HAVE A 5K ON OCTOBER 1, 2022.*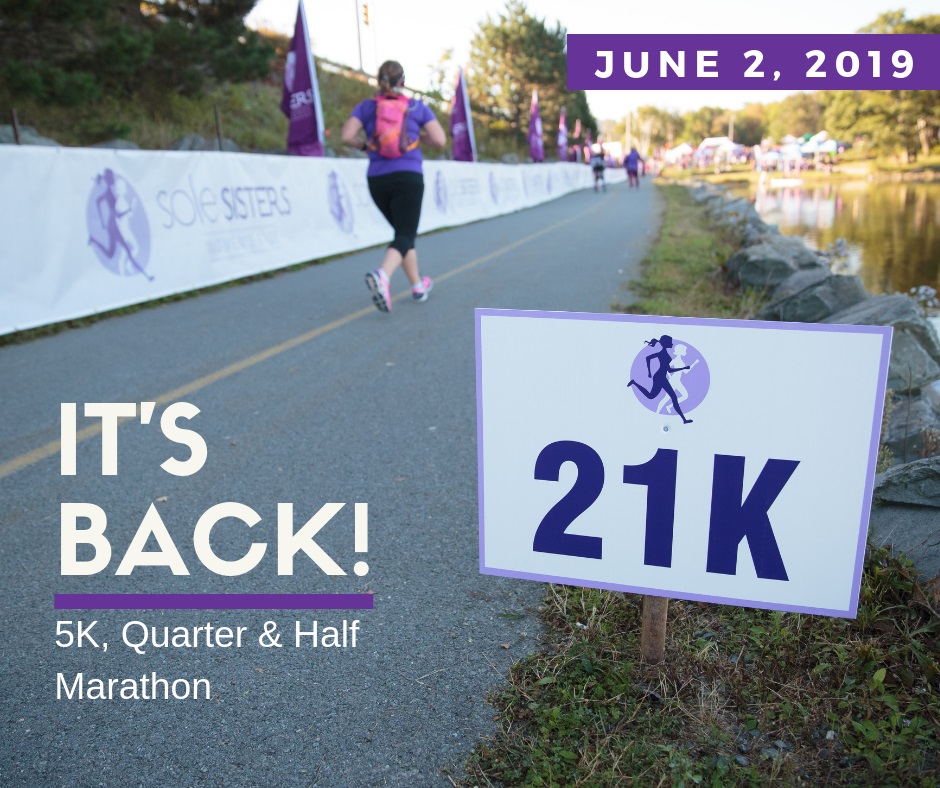 Since 2016, the Sole Sisters 5K, Quarter (10.5K) & Half Marathon (21K) has been the first and only women's 5K, Quarter and Half Marathon in Eastern Canada.  Not only is the Sole Sisters course beautiful (we run through Dartmouth, the City of Lakes) but all those lakes allow us to have very creative cheer stations eh?!
Just like previous years, the Sole Sisters 5K, Quarter & Half Marathon on Sunday, June 2, 2019 is on the 2019 Run Nova Scotia Race Series.  So if you are a member of Run Nova Scotia you'll receive a $5 discount when registering. It also means that gals can acquire age group points by participating in either race and guys or gals can acquire points by volunteering.
We truly believe in "Finish Lines Not Finish Times!" so when you register for Sunday's races, we will give you the choice to be chip-timed or to be listed as an OFFICIAL FINISHER (with no reference to time).
Sole Sisters Women's Race Series is proud to have been an Athletics Canada Supporter with the inception of Sole Sisters Quarter & Half Marathon in 2016.  When the course moved in 2017, it chose to follow the same Athletics Canada certified course as Epic Canadian Quarter & Half Marathon to utilize their certification. Therefore, we can assure you our race courses have been accurately measured according to international standards and the measurement data is reviewed by an accredited certifier.
In 2017 we left behind the Burnside Industrial Park (after five years of fun but not very pretty racing) for the gorgeous City of Lakes, Dartmouth. We love the blue, orange, red, green and purple!  Walk or run with us around this stunning course, surrounded by lakes, trees and our favourite of all the colours – Sole Sisters purple.
[/ed_toggle]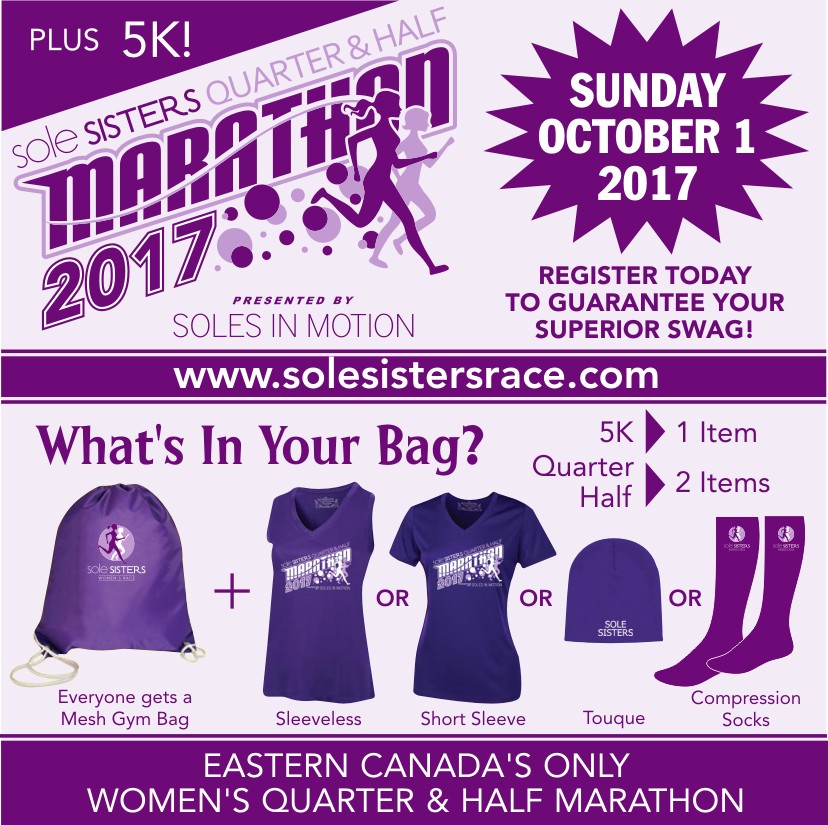 Our 2016 swag was pretty awesome too…
Race Routes, Schedules, Parking, etc.
*This is our example from our last event before the pandemic and it will be updated in 2023.*
Sat, June 1, 2019
Hearthstone Inn at 313 Prince Albert Road, Dartmouth
Race Kit Pick Up + Get Glam Station by First Choice Haircutters
Workshops from 2:30pm -5:15pm
2:30pm – Kaitlyn Beaver Nutrition, Health & Wellness discusses the role of a personal trainer in your wellness journey.
3:00pm – Nova Scotia College of Chiropractor members Dr. Christina Bagnell (Basin View Chiropractic/ Strada Health & Fitness) and Dr. D'Arcy Stonehouse (Brickyard Health) offer an interactive guide to foam rolling and other fun ways to avoid injuries! They'll bring lots of foam rollers and lacrosse balls for you to try!
3:35pm – Stephanie Brown, physiotherapist of Choice Health Centre explains how Pelvic Floor Dysfunction impacts runHERs and walkHERs it is not exclusive to mothers. Common symptoms are leaking when you laugh/run/jump, frequent peeing or urgency to pee, pain with intercourse, prolapse of pelvic organs and more. But you can do something about this beyond kegels.
Schedule with all races starting at 45 Graham's Grove, Dartmouth 
Sunday, June 2, 2019
45 Graham's Grove, Dartmouth
7:00am – EARLY START
8:00am – 5K
8:15am – Quarter & Half Marathon
9:00am – 12:00pm Nova Scotia College of Chiropractors sponsored chiropractic treatments
9:30am – 5K Awards by the Run Nova Scotia tent.
10:30am – Little Miss Sole Sisters 4K
10:35am – Quarter Marathon Awards by the Run Nova Scotia tent.
11:00am – 1:00pm Skills & Drills event with Canadian Girls Baseball.
11:00am – Half Marathon Awards by the Run Nova Scotia tent.
11:15am – Little Miss Sole Sisters 2K
11:45am – Little Miss Sole Sisters 100-meter dash
There is a four hour time limit for the races on Sunday. If that concerns you then join us for the EARLY START option. This will require that you know the course and have your own nutrition/liquids until 8am when all volunteers are set-up and the races have begun. But, this option may remove unnecessary race day stress. Remember we believe in Finish Lines Not Finish Times!
And while we believe in FINISH LINES, NOT FINISH TIMES!  We are providing optional timing for the 5K, Quarter & Half Marathon on Sunday, June 2, 2019.
Previous results for 5K, Quarter, Half and Official Finishers found here!