This previously annual Fall Quarter & Half Marathon race is moving to Sunday, June 2, 2019 to be a part of the new Sole Sisters Girls Race Weekend. You can read all about those  plans HERE and we will be updating this section of our website shortly.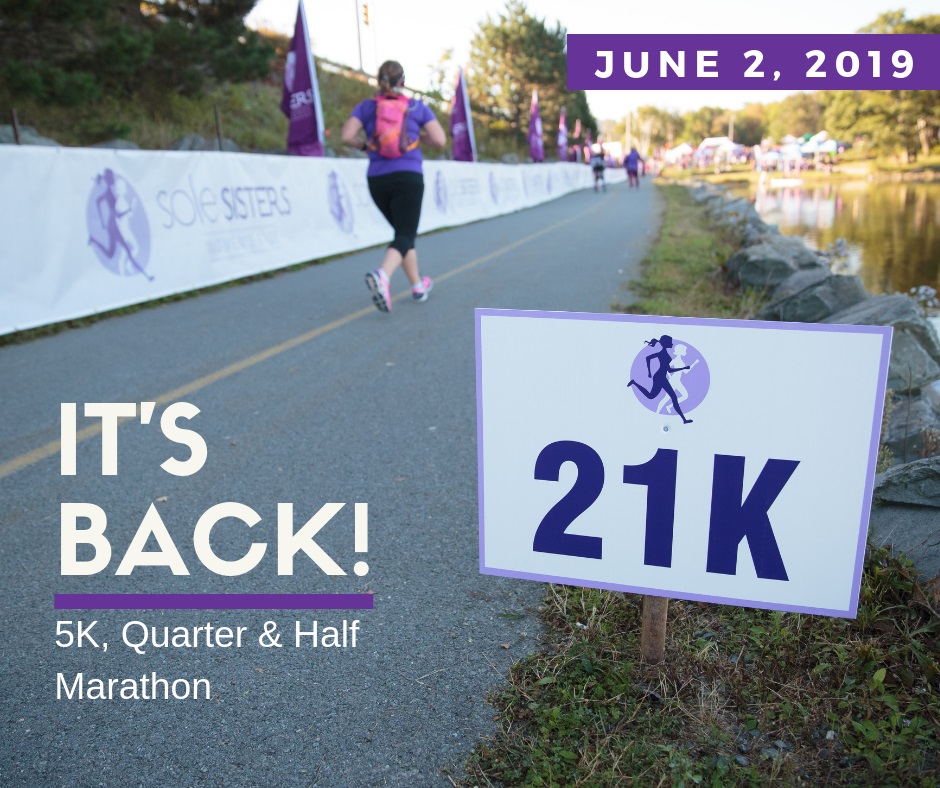 Since 2016, the Sole Sisters 5K, Quarter (10.5K) & Half Marathon (21K) has been the first and only women's 5K, Quarter and Half Marathon in Eastern Canada.  Not only is the Sole Sisters course beautiful (we run through Dartmouth, the City of Lakes) but all those lakes allow us to have very creative cheer stations eh?!
Just like previous years, the Sole Sisters 5K, Quarter & Half Marathon on Sunday, June 2, 2019 will apply to be on the 2019 Run Nova Scotia Race Series.  So if you are a member of Run Nova Scotia you'll receive a $5 discount when registering. It also means that gals can acquire age group points by participating in either race and guys or gals can acquire points by volunteering.
We truly believe in "Finish Lines Not Finish Times!" so when you register for Sunday's races, we will give you the choice to be chip-timed or to be listed as an OFFICIAL FINISHER (with no reference to time).
Sole Sisters Women's Race Series is proud to have been an Athletics Canada Supporter with the inception of Sole Sisters Quarter & Half Marathon in 2016.  When the course moved in 2017, it chose to follow the same Athletics Canada certified course as Epic Canadian Quarter & Half Marathon to utilize their certification. Therefore, we can assure you our race courses have been accurately measured according to international standards and the measurement data is reviewed by an accredited certifier.