This International Women's Day – Sole Sisters Women's Race wants you to #StopWaiting2020. What do we mean by #StopWaiting2020? Sole Sisters wants to empower women of all sizes (and ages) to walk or run in their sports bra as a Sole Sisters Bra Squad.  No matter what you look like, no matter how you feel about how you look, no matter where you are on your fitness journey… let's build confidence together by creating a place where you can work out and build a positive perception of your body. Register HERE.
Do you remember reading about the original #StopWaiting Campaign in Canadian Running Magazine in March 2017? For International Women's Day 2017, we had ten beautifully brave Sole Sisters Ambassadors that posed in their underwear to inspire and encourage women to redefine athlete, to embrace their bodies and to try a new challenge (as if appearing in your underwear in print wasn't challenging enough).
Fast forward to August 2019 when I was reading Kimberly Nuzingah Bradley's article in Runner's World about " Why It's Crazy Empowering to Run Shirtless. It liberates your inner athlete—no matter what your body size is." 
 "Risk what your body may look like in the eyes of others for the sake of accepting your body and allow yourself to be comfortable. Your body is changing for the better; give it the comfort and space it deserves. Not all athletes are born with athletic bodies, but many of us have an athlete deep within, waiting to be unpacked. Uncover that athlete, starting with your tee shirt."
I know thousands of runHERs and walkHERs and sadly I also know how insecure every age and every size of woman is about her body.  This author focuses on her running shirtless as a plus-sized runner and how liberating that is. But it applies to others just as much. I know a local runner that often wins races and looks great to us, but she always felt insecure about her mom-belly. Only with much effort has she recently begun running shirtless. Then there is the 50-something runner that thinks she is too old to run shirtless. Ladies, there are so many insecurities out there, they apply to us all.
We hold onto such negative ideas about ourselves, or such impossible standards that it's hard to ever be perfect enough to run shirtless. But, I believe in the power of women supporting other women. So I had this idea to invite ladies to do what many of us would never do, run shirtless.
For International Women's Day, let's hold an event, where all ages and all body types support each other and go for a run or a walk.  I don't want anyone to get hypothermia so we can't do it outside. And while we could wait until Sole Sisters Women's Race on June 6th – I don't want to wait! Get it, #StopWaiting2020? I want to do this now to mark International Women's Day. But I do encourage you to run our race shirtless in June, I bet it's much more comfortable.
On Saturday, March 7, 2020 from 8am – 9am we've rented the indoor track at Zatzman Sportsplex in Dartmouth. The indoor track is above an ice rink so yes, it will be chilly. I plan to wear tights, a toque, arm warmers, gloves, leg warmers, maybe a scarf but I won't wear a shirt! And while there are warmer indoor tracks, the idea of a Sole Sisters Bra Squad event was too out of the box for them to rent to us. So to the Zatzman Sportsplex, we say thank you for helping us to create a safe environment and believing in our event. Register HERE!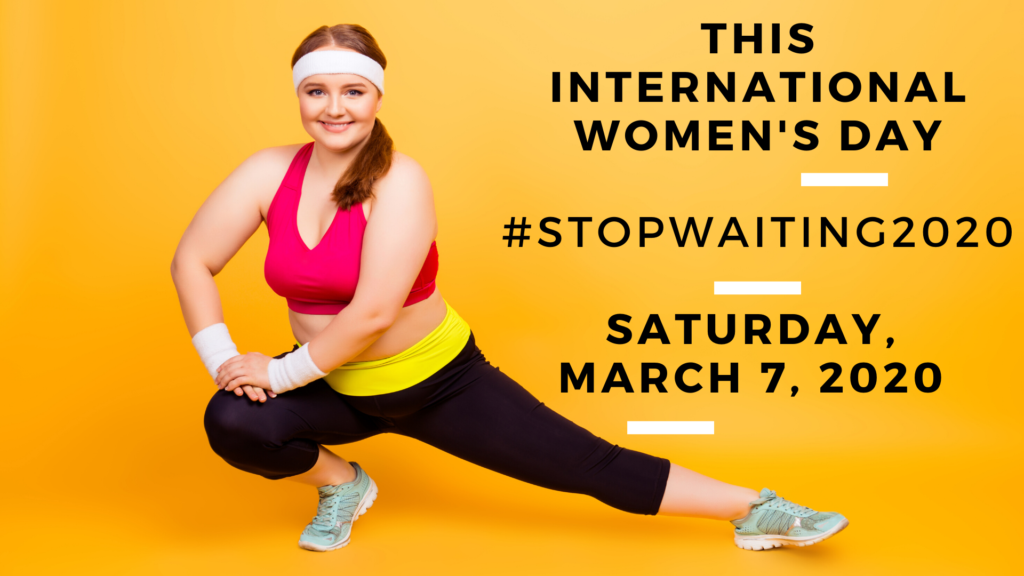 The track will be closed except to us, and there will be no one on the ice.  My hope is that each girl or women does a mile shirtless. That's 7 laps but you can go as long as you want within our hour of track rental.
We've added tickets to eventbrite to bring awareness of our event outside of Sole Sisters. Plus we needed a way to charge for the event as there are expenses associated with offering this. We are asking for a $20 donation. If the event has any proceeds after expenses it will be donated to the Cape Breton Chapter of Girls Gone Gazelle Run Club – our newest!  We will bring our entire inventory of Sole Sisters toques to give to anyone registered that doesn't already have one.  They do say we loss most of our heat from our head (hopefully not our torso!). 😉 – Coach Stacy